BEYOND TRADITIONAL TALENT ACQUISITION: BRIDGING THE DIGITAL SKILLS GAP WITH CAREER SWITCHERS

Tech talent shortage: the clock is ticking
The technology sector is in the midst of a major skills shortage, with Hays reporting that nearly 95% of employers are struggling to find tech talent. This isn't set to change, as 3 million more skilled workers are needed in technology by 2025, yet only 150,000 graduates (including a mere 26,000 women) are expected to enter the workforce from higher education institutions in the UK.
The figures tell a concerning story, however, Code First Girls' research reveals a solution to talent acquisition that is gaining traction– career switchers. Career switchers, otherwise known as career changers or tech returners, are individuals who have transitioned from one field or industry to another, or returned after a period of absence. 
Delving into our latest report, we'll explore why career switchers are the key to bridging the tech talent gap in the UK, and how they can bring fresh perspectives and experience to your team.
If it's broke, fix it: why women choose to change careers
More and more women are making the leap and switching careers to the tech sector. In just two years, the percentage of career switchers in the Code First Girls community skyrocketed from less than 2% to over 41%.
So, what's driving this shift? According to our recent survey, nearly two-thirds of women who left their previous roles cited a lack of clear promotional pathways or progression, and over half pointed to unfair pay or lack of opportunities for salary increases. Add to that burnout, experienced by 40%,  and it's no wonder that women are looking for a change.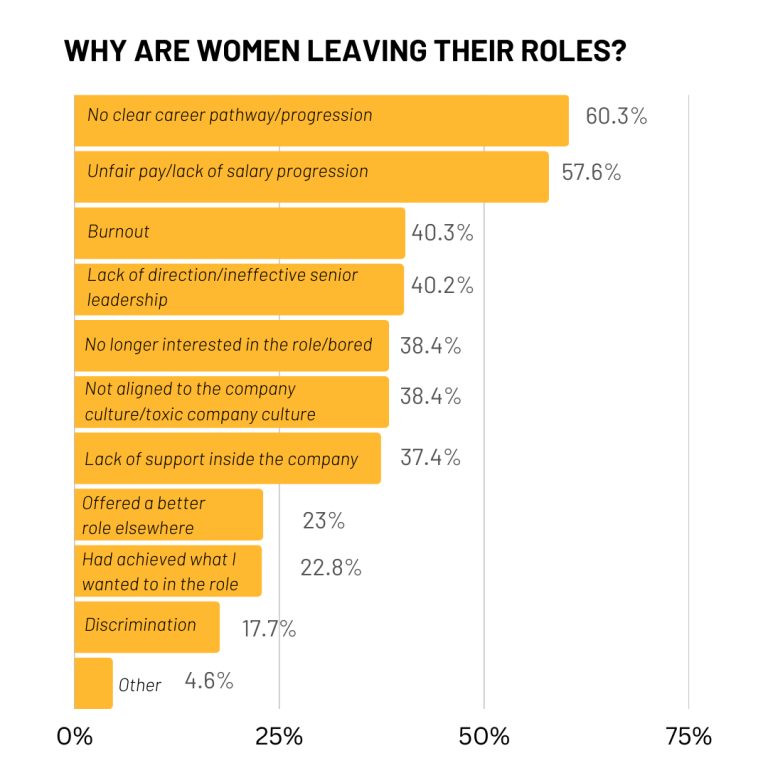 The tech industry offers exciting opportunities for progression and upskilling, flexible working arrangements, and competitive salaries, making it a natural fit for women from a variety of backgrounds. However, our research finds that tech is a career change appealing most to women working in teaching, accountancy, retail, and healthcare. The most desirable roles for our cohort of career switchers being Data Analyst, Full-stack Developer, Front-end Developer and Software Engineer.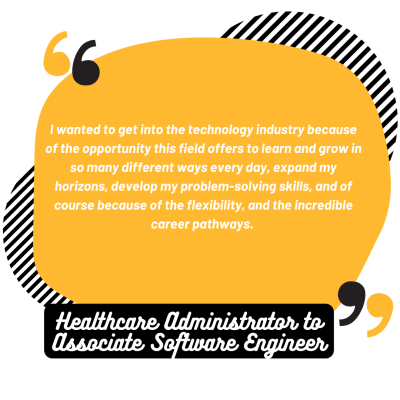 Beyond the traditional tech hire: top three reasons to hire career switchers
Unlocking the potential of this rapidly growing talent pool could be key to future industry success. Discover three reasons why career switchers should be your next tech hires.
1.Career switchers have leadership experience
Research by Harvard University the Carnegie Foundation and Stanford Research Center has noted that a significant 85% of career achievements are attributed to soft skills, such as communication and teamwork. Coming from a wide range of backgrounds, career switchers bring a variety of transferable skills, from problem-solving and teamwork to analytical expertise, communication and attention to detail. With a substantial 57% of our career switcher cohort having previous managerial experience, this means they not only possess technical experience but also the interpersonal skills required to effectively lead and manage teams, often making them fast-progressing team members. 
2. Diverse teams perform better:
Diversity is not just a buzzword, but a proven driver of success for companies. Research by McKinsey has shown that companies with gender diversity on their executive teams in the top quartile, tend to have above-average profitability and outperform those with less diversity. Importantly, career switchers bring diversity to teams that goes beyond gender. One in five of our career switchers identify as neurodiverse and almost four in 10 are from underrepresented ethnicities. Diversity in all forms is crucial to team performance, because, when people with different experiences and knowledge come together they can approach challenges from a range of perspectives, helping to drive innovation. Careers switchers, with a wealth of experience from different industries, can therefore bring fresh insights and innovative approaches to tech teams. 
3. Career switchers have affordable salary expectations
With intense competition for talent in the tech industry and rising salaries, driven by a lack of qualified graduates and inflation, over 50% of digital leaders are concerned about the sustainability of salary demands in the future. The average tech salary in the UK is £62,000, more than double the average household income. 
However, career switchers often have entry-level salary expectations similar to those of recent graduates, despite bringing greater experience to the table. 
Additionally, 71% of career switchers are drawn to the tech sector due to opportunities for career progression. With tech vacancies costing some employers over £9k, and senior roles being harder to fill, providing opportunities for progression and clear pathways for advancement for career switchers could help reduce long-term hiring costs.
Unlocking Potential: top five tips for hiring women career switchers
To maximise the benefits of hiring career switchers in the tech industry, technology leaders must proactively adapt their recruitment strategies to cater to the unique needs and strengths of these women. Here are our top five tips for recruiting career switchers.
1.Support and promote free training opportunities
With 78% of digital leaders feeling that government interventions don't do enough to solve the digital skills gap, it is clear that the industry must play a big role in tackling the tech talent crisis. Supporting organisations like Code First Girls enables women to pursue upskilling and reskilling opportunities around other commitments, making it an accessible option–  a crucial factor in maximising diverse applicants.
2. Highlight the benefits of a technology career in job ads
Code First Girls' research shows that career switchers have clear desires when it comes to workplace benefits. In fact, compared to our general cohort, career progression opportunities (71% vs 66%) and flexible working (64% vs 60%) were seen as more important. Highlighting these benefits in job descriptions could be key to attracting more career switchers.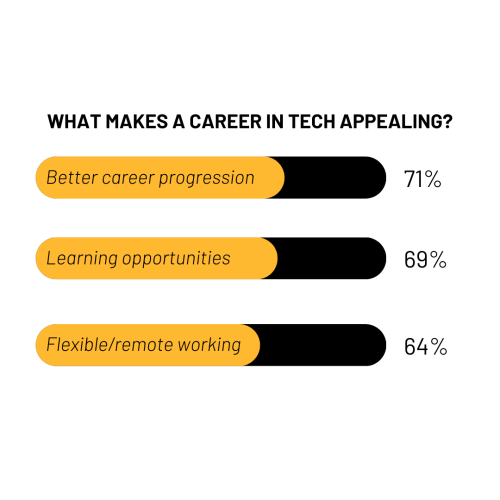 3. Scrutinise gender-biased language in job descriptions
Research has shown that many common words used in job descriptions have male or female associations. Using inherently masculine language, such as words like "ambitious", "assertive", and "self-reliant" in job adverts puts women candidates off applying. One company, for example,  saw applications from women increase six-fold by dropping the words "confident", "competitive" and "champion".  To ensure your job adverts are free from bias, consider using technology, such as Textico, to scrutinise and identify any gender-bias language in your job postings.
4. Champion role models
One in three career switchers say they've been dissuaded from taking a job because of a lack of role models in an organisation. Make your company more attractive to career switchers by championing those already working at your organisation. You can also demonstrate your commitment to supporting career switchers by mentioning that you are open to the skills and potential that women from other professions bring in your job descriptions.
5. Provide mentorship opportunities
Whilst incredibly exciting, making the decision to switch careers can be daunting. With 82% of career switchers saying they've experienced imposter syndrome, ensure that you not only attract women but retain them by putting support in place focused specifically on key transitional moments of a woman's career, such as returning to work after maternity leave, or dealing with menopause. This could include providing mentorship programs, employee support groups and ongoing training and upskilling.
What's Next?
Career switchers can be the key to bridging the tech talent shortage. With their leadership experience, diverse perspectives, and desire to progress and grow in a role, they have the potential to revolutionise the tech workforce. Embracing diversity and tapping into the potential of career switchers can drive success for your organisation in the competitive tech landscape. Find more insights into unlocking career switcher talent in the full report. Download your copy below: