The Tech Revolution in the Travel Industry

The future of travel is more exciting than ever, and it's only going to be better from here! Learn all about the latest technology in travel and how you can get involved in it too. Catch flight and techy feels today with CFG. 
The travel industry has come a long way in the past decade, moving away from a reliance on printed travel brochures and in-person travel agencies (although 13% of people still like to use these traditional methods!) – and all of these mega improvements have been due to tech. Today, you can research, book and plan your travels from the convenience of your smartphone! Let's explore a couple of cool examples of the tech impact on travel:
Did you know that today, 74% of people use the internet to plan their trips?
This includes using search engines, blogs and social media. How many of you have caught wanderlust just by scrolling on platforms like Tik Tok?! Don't worry, you're part of the 76% of Tik Tok users who are feeling that itch to travel. Which, in  2022 alone 34%  of travellers said they made a trip because of Tik Tok!  

FROM TRAVEL AGENTS TO ONLING BOOKING SYSTEMS 
Long gone are the days for manually checking what is the best or most affordable travel package for your needs. Online booking platforms make this so much easier for us to pursue our travel plans with no fuss, no spreadsheets or calculators – just a platform. They use computerised reservation systems (CRS) to store and retrieve information such as info on hotels, flights, rental cars, events etc. which can then be filtered down by users based on their unique preferences. These systems typically use JavaScript, Python and SQL to code – which use huge data sets to bring you all the latest info. 
A great example of this is with one of our partners, Skyscanner, who are the world's largest travel search engine for flight, hotels and car rentals and are considered to be a metasearch engine! They have their own team of smart engineers who build all of Skyscanners technology, such as their mobile flight tracking system, using a combination of the following API's node.js, PHP, Python, Ruby, Objective-C, Java (Android), C# (.NET), cURL, and RapidQL programming languages. Making it so much easier to completes searches likes multi-city trips – which show you the best routes for taking trips between different locations; to being able to visually see what points throughout the year could be the best times to travel to specific locations based on demand and price.
FROM GUIDEBOOKS TO AI TRAVEL APPS
Travelling solo? No problem, AI is on hand when you need it! Smartphone technology has made it easier to organise trips more than ever before, and according to TripAdvisor 45% of users actually use it as their main tool whilst travelling. No more flicking through heavy guidebooks, everything you need can now be at your fingertips!
The best part is, with the latest development of AI and Chatbots users are able to have better 24/7 customer support when asking questions or requesting information! A great example of this is KLM's social media feature, which allows travellers to ask them any travel-related questions and is also accessible in 10 different languages. Perfect for when you are abroad and in a different time zone. 
An even better benefit of this is feature is, before you travel, both travel companies and hotels are increasingly incorporating AI-powered solutions into their systems including automating bookings, flight forecasting, and personalised travel insights, through to finding specific flights, hotels and amenities that suit individual needs. Saving users the hassle and headache of flipping in between pages to plan their journeys. 
Here's a tip if you didn't know already: You can even use tools such as Chat-GPT4 to create your own personalised itineraries and streamline your travel plans. The latest partnership is between Expedia and their new ChatGPT-powered travel assistant, that can help users to collect travel information and book trips with ease. This is especially helpful if You're 🫵 the designated person the gang or the entire family left in charge of planning the whole trip. This added feature will allow you ask and explore relevant questions that can cater to different needs, and should surely help to you 'get group, out of the chat' and onto the 'gram. Or actually, "travel-Tok" should we say now? 
AR & VR
Exciting new technologies has given us the opportunity to be transported into different worlds without even leaving our house, through Virtual Reality (VR) and Augmented Reality (AR). Imagine virtually being able to walk through google maps, or tour Venice using VR headsets on YouTube – without leaving your living room. Maybe even take a stroll through New York City in the 1920s, or watch a gladiatorial contest in the Colosseum! How can you not catch the travel bug like that?! 
With AR-enabled apps on smartphones or tablets, tourists are given the ability to overlay digital information on the physical world. For example, have you ever been to a museum or gallery with headsets? It's kind of like that! AR apps can offer historical facts and stories about landmarks, or provide interactive guides as you discover new places. These apps can also help you translate your evening meal by providing real-time translations of foreign signs or menus. No more ordering and wondering what meal you've got coming!
THE GAMIFICATION OF TRAVEL WITH AR

The 'Pokemon Go' app, inspired by the real game of Pokemon, is a great example of how AR can be used to make travelling both fun and engaging for users of all ages. You can use the map feature almost anywhere in the world to navigate around cities and collect rare Pokemons through the AR+ mode, that uses display overlaying technology to interact. Simultaneously, the app also encouraging users to visit famous landmarks tagged with Pokestops, to not only collect points, but also learn something new about the area, and socially interact other players who may also using the app. 
AR opens up new a new confidence to travel with some of these features. As the saying goes 'when in rome, do as the romans do', this gives you as a traveller the confidence to immerse yourself in the culture even more! The possibilities are endless. 
BOOSTING THE EXPERIENCE WITH SMART TECH
Smart technology can lift some weight off your shoulders whilst travelling to help you enjoy the experience even more. One of our personal faves is smart luggage.  If you don't know much about it, bascially smart luggage brands such as Away and Samsonite, have features like TSA compliant built in power banks and self-weighing suitcases. By the way – did you know you there's even celebrity certified suitcase which you can literally ride on like a scooter? The Airwheel's SE35 cabin suitcase has a built in battery and motor, that can let you go as fast as 8 miles per hour on a single charge all around the airport! Plus for our tech savvy folks out there, it even features  multiple USB ports to keep all your devices charged up for the trip. So you never miss an Instagram or Tik Tok worthy moment  🤯 mindblowing! 
If you are conscious about losing your luggage during your travel or wary of theft, attaching some Apple AirTags to your belongings is a nifty was to keep track of them wherever you are. They work using Bluetooth technology that sends out secure signals to be detected by nearby devices within Find My Network. These devices send out locations of your AirTag straight to your iCloud and can also work at long distances. We've gone deep on the travel AirTag stories 👀 on TikTok – IYKYK!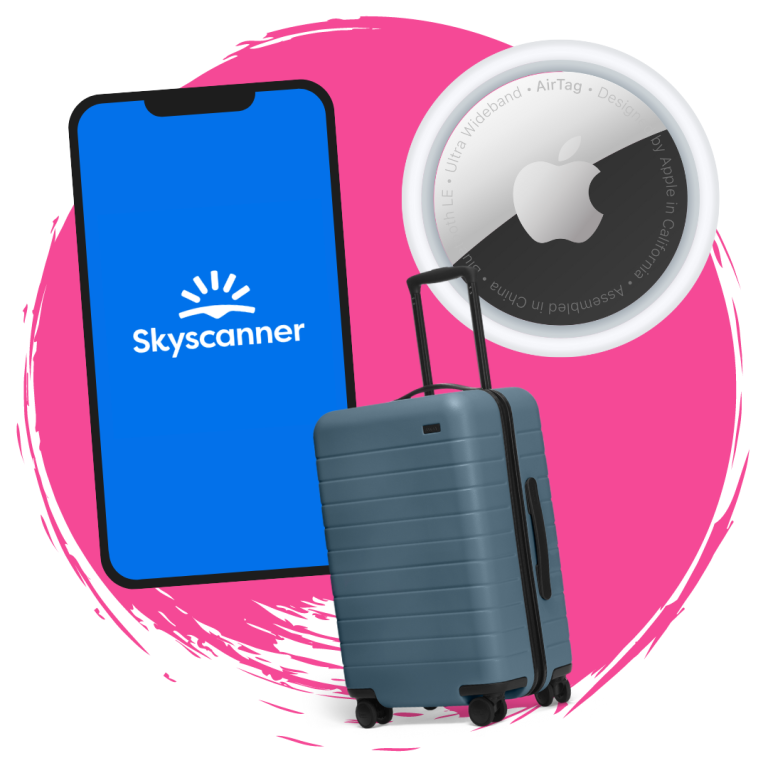 KEYLESS CHECK-INS? WE'RE SOLD 
Once in your destination, there are many hotels that have shifted away from physical keys to magnetic strip key cards making it easier for guests to store them in their wallets. BUT, technology has now even started moving beyond that.  Some hotels have opted to using keyless entry by allowing guest to use their mobile phones to unlock their hotel room, through devices like Goki – an app that functions with a smart door lock. It is a secure and convenient way for guests to access their rooms or Airbnb's, without worrying about misplacing or using a faulty a keycard. Another great benefit of this is being able to skip physical check in's, by being able to complete the task solely on the app, and then head straight to your room (or even the spa!) for some R&R – especially after a long travel. You deserve it 😌
Certain hotels have also begun to incorporate a selection of voice-controlled devices such as smart speakers with AI assistance, which can help to elevate hotel room services and comfort, by controlling the lighting, heating and even bed comfort. We are sooo here for that! These are great moves for businesses within the travel and hospitality industry as well, as staff are able to focus on more important tasks and utilise resources.
Not only that, but hotels are using technology to become more sustainable by helping to reduce environmental impacts, through the use of smart controls to save on water and electricity, as just one example. In 2021, the YOTEL in Boston introduced the 'Vi-Yo-Let' an ultraviolet cleaning bot that roamed around hotels, with the very important job of disinfecting the air and surfaces with lightsaber looking UV lights that can kill 99% of viruses and bacteria – including the coronavirus.  Which gives extra reassurance that the environent is safe and comfortable for both staff and guests to enjoy.

WHAT DOES THE FUTURE OF TRAVEL HOLD?

Facial recognition technology and biometric systems will expedite security checks and boarding processes, eliminating the need for physical documents. In the UAE this is already happening with Dubai Airport's smart tunnel which uses facial recognition and AI to get passengers through passport control. 
Did you know that 70% of all travel-related purchases and decisions are made by women?
but only 12.5% of the top 350 travel tech companies are led by women? Even behind all of the great technologies mentioned in this article women are still a small minority in the engineering teams. This is why we are sharing this article with you today to mention some of the key areas within the travel industry which you could get involved with. But first, let us introduce you one of the pioneering women in travel tech!
A spotlight on Caryn Seidman-Becker, CEO of CLEAR, who has been a pioneer in changing the way we use technology for travel since 2010. CLEAR Secure is an American biometrics technology company that focuses on paperless travel by using your biometrics, aka your biological data – such as eyes and fingerprints, for security check in which literally makes you your own travel ticket. This smart technology is used in airports and even stadiums at security checkpoints, which as of 2022 has been deployed in 38 airports worldwide. This useful device can help with passenger flow as well as enhance safety and security, by also allowing people to check in faster, reserve spots ahead of time, and even check age verification at events. 
TOUCH THE SKY 
You can really touch the sky now because travelling isn't limited to just on earth expeditions anymore 🚀 the rise of space tourism is becoming more possible with companies such as Space X continuing to invest in space exploration. It's like the saying "sky is the limit" has taken on a whole new meaning with these technological advancements that make it seem like anything is possible, such as venturing beyond the earths atmosphere and experience space travel as everyday human beings.
Technology will play a pivotal role in enhancing our travel experience creating more seemlessness and connection, which is already present today from AI-virtual assistance to biometric systems that expedite security checks and keyless boarding processes. We are headed towards a future of hyper-personalisation through the uses of data analytics and machine learning – that can help to make travelling work for our unique needs and interests. With lesser things to worry about because technology works around you to make it happen, travelling could be so much more exciting and thrilling with less stress or fuss. 
All of this travel talk is getting us super excited and we hope you are feeling it too! If you're a keen to have a tech career take-off in this industry (yesss, we want to help you get there!) then we got exactly what you need to get started across our different courses!
MOOCs

–

Our upcoming

Intro to Data MOOC Sprint

is great bite-sized learning course to get you introduced to new coding concepts. Here you can learn how data can be used to solve business problems and create solutions, similarly to the way airports create new systems based on big data provided by their travellers. 

Classes

–

Our Coding Kickstart Classes provide more in depth learning about coding languages such as

Java

,

Python

and

Data & SQL

, which are also used by big booking platforms like Skyscanner and Expedia for the back-end of their CRS's. I you're interested in having a go at learning how to build a travel app from scratch, then this is for you.

CFGdegree

– btw did you know we work with a range of travel companies including TUI, Booking.com, Skyscanner, the Travel Corporation and TravelPerk?! If you're a keen learner and you want to progress beyond our MOOCs and Classes, then eventually you can apply for our hottest course – the CFGdegree! Our intensive 16-week course guides you through either Data, Software, Full-Stack or Product Management. The world is your oyster and the sky is the limit to learning – so don't miss out and sign up for a CFG course today!
TO INFINITY AND BEYOND?
The world is truly your oyster, offering an abundance of exciting opportunities to explore in the realm of travel. No matter what your strengths and interests may be, it feels like the industry is just scratching the surface when it comes to incorporating technology – which you could find yourself involved with very soon!. The pace of innovation is thrilling, with new developments being shared every season, leaving us eagerly anticipating to see what the future holds. For now, we are going to put on our VR headsets and indulge our wanderlust by becoming immersed in stunning beauty of lush tropical beaches of the Caribbean. So what are you waiting for? Let the journey begin!

LEARN MORE WITH TUI 
Speaking of travel and tech.. why not catch up with our latest REPRESENT video with Emily Collier, Director of Technology at TUI. In this video you'll learn how TUI uses technology to retain its place as a market leader, as well as giving key advice on remaining true to yourself in a male-dominated environment.