Library Lovers Month: What's in our CFG Library
by JAN GERNALE, B2C Marketing Executive
It's Library Lovers month! This national celebration is for book lovers and bibliophiles, to come together to share our respect for libraries and the countless life changing novels they hold within their walls!
"Library Lover's Month is one of the best ways to highlight the importance of libraries, and discuss their future, possibilities and challenges." –Ebookfriendly
Libraries have been around for centuries and are homes to rich histories, knowledge and stories. Words etched and printed onto leafs of paper; bound in leathers and fabric, to be picked up and read by hundreds and thousands of eyes. They store and pass on culture and ideas through generations. 
To celebrate, the Code First Girls community and team shares some favourite books in our libraries and why!
WHAT'S IN THE CFG LIBRARY
Take a flick through our library. What book will you reach for?
The only pocket-book you need for work
'Little Black Book: A Toolkit for Working Women' by Otegha Uwagba
We were lucky to receive a copy of this book at the beginning of the year, as part of our goodie bags! Aside from its millennial pink aesthetic appeal, this A5 sized book can be pocketed or slipped into your bag for your afternoon walk or commute. 
'Whether you're just starting out or already have years of experience' it's the type of book you can keep coming back to regardless of what stage in your career you are in. 
You can find out more about productivity, getting your pay, confidence and upskilling. If you feel like you need a little push today, 'feed your mind' (Oprah Winfrey) with a few pages from the Little Black Book.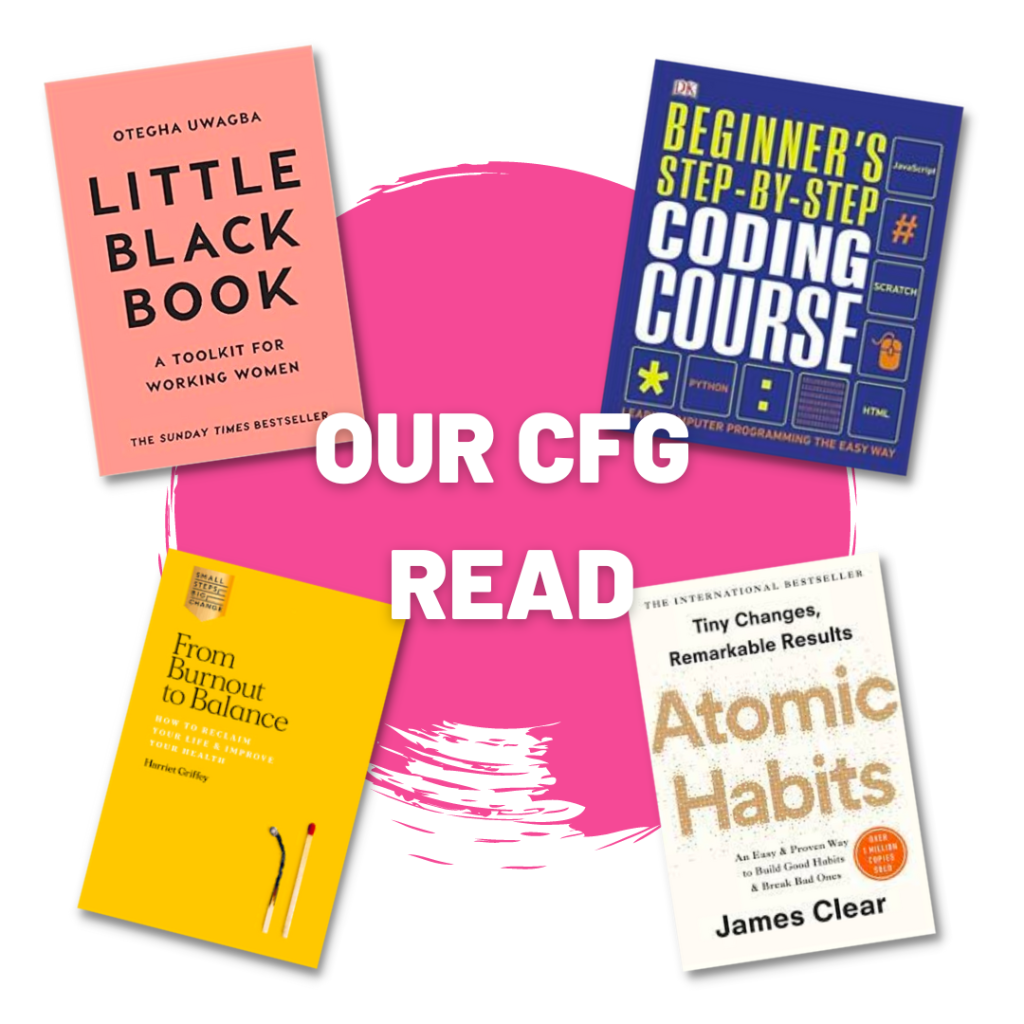 One, two step into computer programming 
The internet may seem to have it all, but sometimes the contents page of a book is less daunting than figuring out what to search in google. If you're just starting out with your coding journey, this is a great beginner's book into learning about computer programming – compiled into one space!
Sky's the limit! But if you feel a little burnt out, this one's for you. 
We encourage our community to take opportunities for growth and development. For many of our students who are often partaking in our classes whilst juggling their 9 to 5's or familial responsibilities, we understand it can get overwhelming sometimes. Here's a great pick me up for days when you need to re-centre your life and find some balance amongst the chaos. The process is broken down into steps within each chapter, going through various suggestions of activities and improvements you can add into your life to recover and avoid burnout completely. 
But on that note, find your pace – life is not a race! 
The year may have just begun, but in order to build and sustain new habits or reach the goals you seek – sometimes all it comes down to is building better habits. 
James Clear says "every action you take is a vote for the person you wish to become" and so whether you're seeking to upskill on your job – and may currently be studying on one of our courses, looking to switch careers or industries, or taking ownership in other areas of your life – this is a great read to keep you on the track throughout the year and beyond. 
EXPLORE SOME OF OUR TEAMS PERSONAL FAVOURITES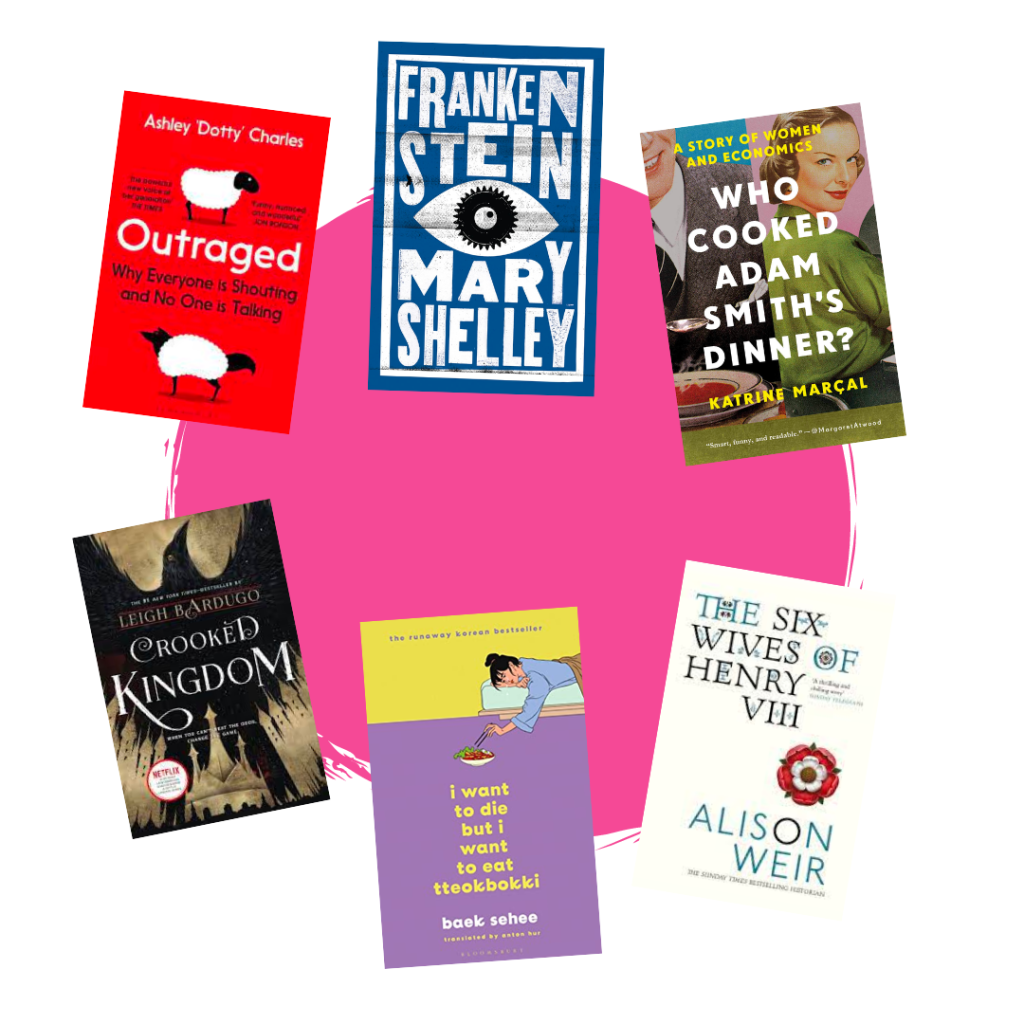 JAN'S BOOKS
B2C Marketing Executive at CFG
'This is not a t-shirt' by Bobby Hundreds "I want to die but I want to eat tteokbokki' by Baek Sehee
The first one is 'This is not a T-shirt' written by the founder of my favourite streetwear brand 'The Hundreds' Mr Bobby Hundreds himself; about how they built a T-shirt brand from the ground up. It's not only inspiring to read, but Bobby also gives advice about marketing and design as well – which as a creative, I always want to learn more about. 
The second is 'I want to die but I want to eat Tteokboki' by Baek Sohee, which centres around a recollection of conversations between Sehee and her therapist. As someone who can relate to a lot of what happens in her book about imposter syndrome, generational trauma and figuring out your worth in life – it was good for self reflection therapy as well! 
Alice's Books, Marketing Manager at CFG
"Who cooked Adam Smith's Dinner?" by Katrine Marçal
"Brandsplaining: Why marketing is (still) sexist and how to fix it" by Jane Cunningham and Philippa Roberts
"These are my two favourite books ever (other than maybe Twilight…). They are all about female empowerment and why things are still a little chaotic in the world in regards to gender equality. Plus, really interesting insights on what we can all do to try and change this narative
Madiha's Book, B2B Marketing Executive at CFG
Outraged – Ashley 'Dotty' Charles
I loved how this book explored the state of outrage in our culture and how we've lost sight of the things that actually matter. It's a powerful yet light-hearted rea
Farah's Book, In-house Instructor at CFG
Crooked Kingdom by Leigh Bardugo
"The second book in the duology and my favourite book of all time. It had me at the edge of my seat all throughout. I felt every emotion reading this book. It's the continuation of a story about an impossible heist, but it's also so much more than that and has been living rent free in my head ever since. It taught me so many things and I've carried so much of it with me. I got to meet the author in Edinburgh and thank her in person and got my copy signed! 
Alex's Book, In-house Instructor at CFG
We Have Always Lived In The Castle by Shirley Jackson – just exquisite writing, a twist to knock you sideways, intriguing characters and possibly the best opening in all of modern literature (in my humble opinion).
Pachinko by Min Jin Lee – we love intergenerational sagas, this one is particularly poignant. A really vivid exploration of family and heritage, as well as the wider theme of cultural tragedy. A really staggering achievement.
Frankenstein by Mary Shelley –, Mary Shelley – "The world was to me a secret which I desired to divine." Need I say more 😀 
Fran's Book, Programmes Manager in Programme Management
I recently read The Six Wives of Henry VIII by Alison Weir which was really good – it was a nice change to have the history told with the emphasis on the women.
One of my all time faves is The Power by Naomi Alderman which is a dystopian, Handmaids Tale-esque novel. It has an incredibly interesting premise and is really well-written, I would highly recommend it!