MY JOURNEY ON THE CFGDEGREE - CLAIRE EVANS
by CLAIRE EVANS, AMBASSADOR & CFGDEGREE STUDENT

How did you first hear about Code First Girls?
I wanted to work as a data analyst so I started looking at job descriptions to see what the requirements were. A lot of adverts asked for Python experience, so I started googling courses. Some of these were very expensive, so I was relieved to come across CFG offering courses for free.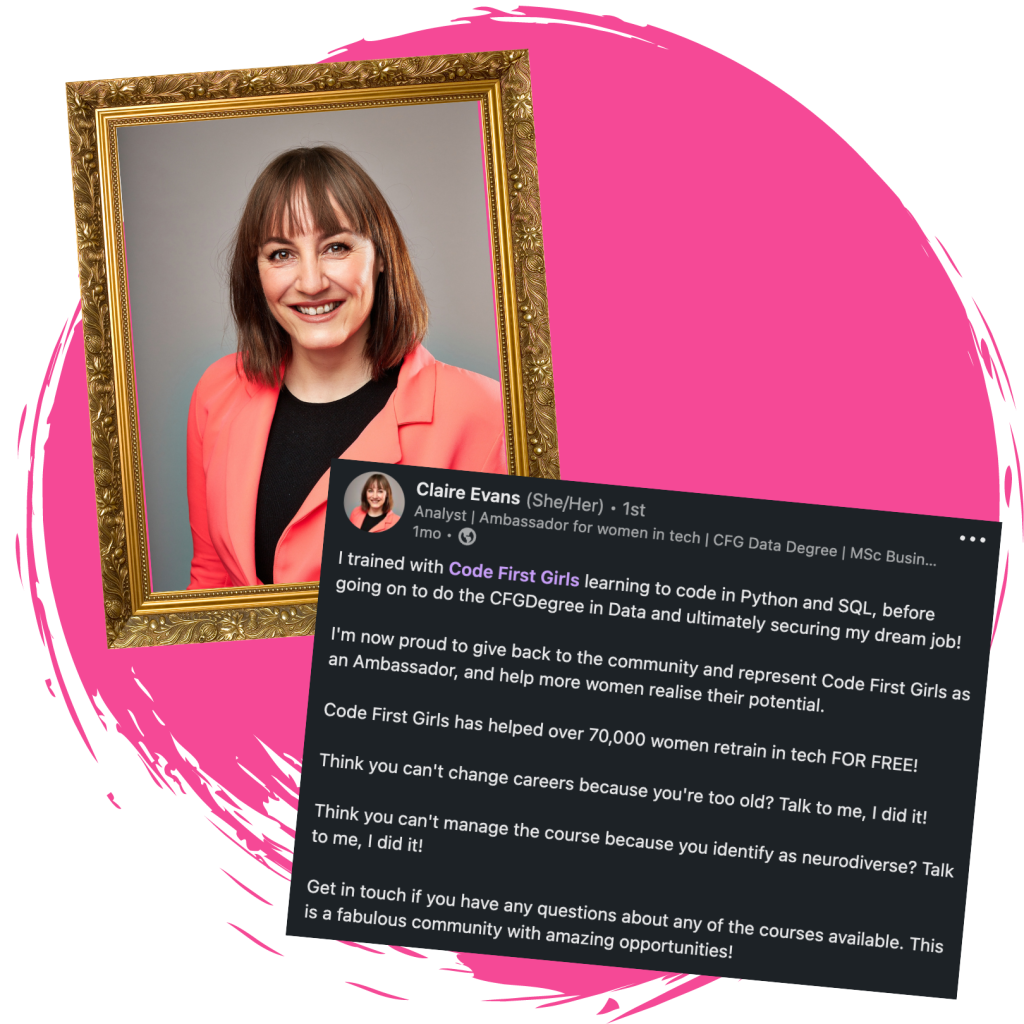 What motivated you to apply for the CFGdegree?
I was motivated by the job prospects. I knew this course would help start my desired career.

I applied for the Data pathway as I knew I wanted to be a data analyst so this was the logical option.
What are you doing in your career now and where do you see yourself in 5 years time?
I secured a role as a data analyst before even finishing my course. It was an internal position so I didn't even have to change companies! I'm very interested in machine learning, so in 5 years time I hope to be studying a PhD specialising in this area.
How did you find managing your work/life balance throughout the duration of the course?
At the time I was exhausted. I had classes in the evenings, and I did the homework and coursework at weekends. Once the course was over, I was sitting at home bored with too much free time, not knowing what to do with myself! I missed the structure and routine!

The most challenging part of the CFGdegree was definitely having no social life. But I pushed through knowing it was only for three months and would be worth it when I got my dream job!
Could you give one piece of advice for those looking to apply for the CFGdegree?
Research the sponsor companies carefully and think about how you would fit in with their culture. Some questions to ask yourself: – Can you see yourself there in five years?
– Have they done any employer talks with CFG that you can watch?

You will be more authentic in the interviews if you're talking to a company you really want to work for.