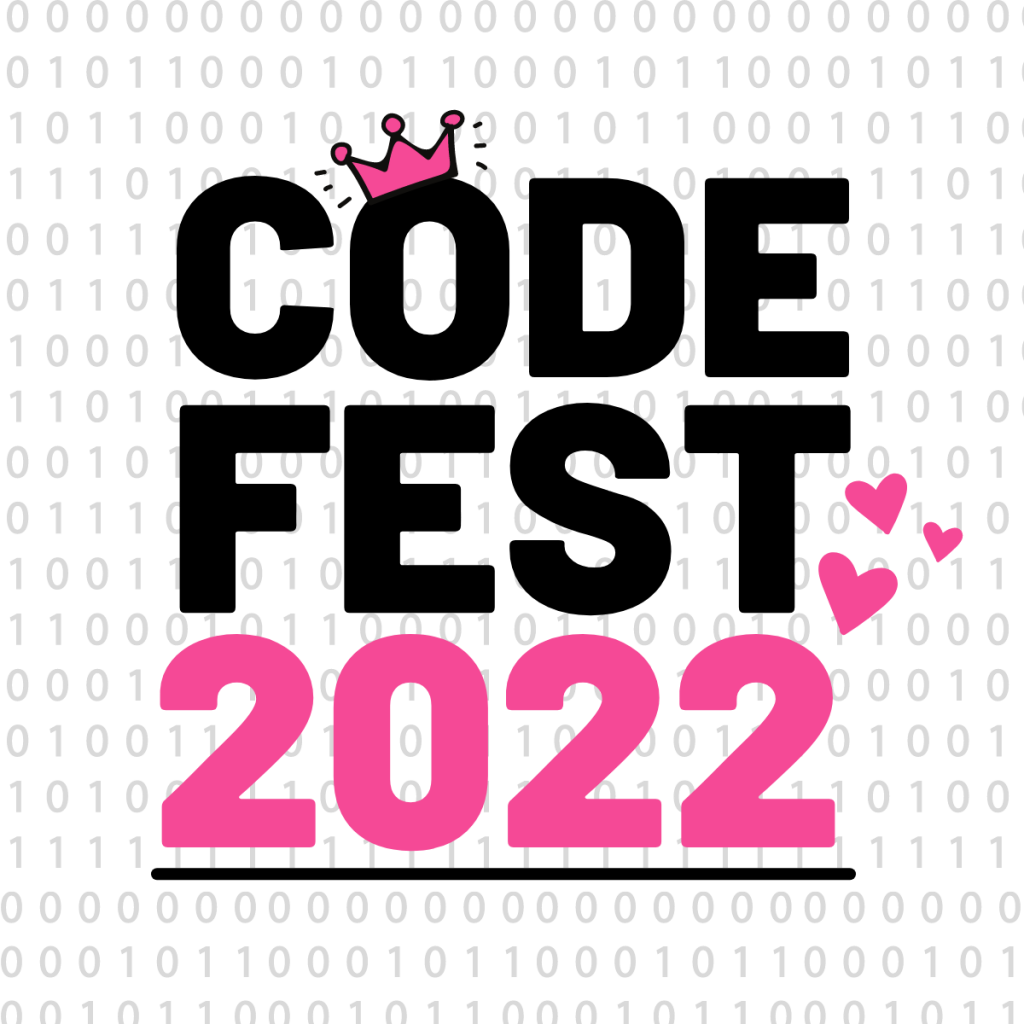 Welcome to Code Fest 2022! This year, we will be hosting an in-person, live-streamed two-day event with a range of talks, panels and interactive chats.
OUR COMMUNITY LOVED CODE FEST LAST YEAR
Last year, our CFG members loved being able to learn about tech and tech careers from a range of companies and the opportunity to engage with speakers for Q&A sessions and interactive events.
ENGAGE WITH THE CFG COMMUNITY
Code Fest is a great way to highlight your brand, showcase how you are leading the charge with diversity in tech, and engage with the CFG community.
THIS YEAR IS GOING TO BE EVEN BIGGER!
Code Fest 2021 was a huge success (read more below!) and we are hoping to deliver an even bigger event this year. Two days full of tech talks, career booster ideas and our CFG awards (plus more), we expect 2022 to be our best yet!  
Code Fest 2021 was a fun-filled two-day celebration of Code First Girls, our members and partner companies that are doing cool stuff in the tech space.
Day one saw a virtual event day with loads of companies and panels giving insightful tech talks to an online audience. 
Day Two was our live-streamed in-person event at Level39 with the Career Booster theme with loads of great topics and interactive sessions.
CODE FEST 2021 – MORE DETAILS
If you would like a little taster, check out the pics to the right or scroll down to check out the videos for each day for Code Fest 2021 (timestamps for sessions are available on the watch on YouTube link).
aTTENDED OUR IN-PERSON EVENT
CODE FEST 2021 COMPANY PARTNERS
WATCH DAY ONE CODE FEST 2021:
WATCH DAY TWO CODE FEST 2021:
We have a range of panels, tech talks, and CFG alumni sessions on the cards to help deliver a selection of hot topic areas for our members, showcasing tech trends, companies, and career pathways. For companies who would like to get involved, available slots and suggested topics or panel discussions are listed below. Hit the button below to book a session.
GET INVOLVED! BE A PART OF CODE FEST 2022
We have a range of sponsor options to get involved in Code Fest. At Code Fest 2021, we ha
A unique opportunity to be involved in a special project that will be showcased at Code Fest 2022 for the first time. This research piece will go beyond this event and be shared across our networks and with all partners to highlight and discuss this key topic: What women want: how to attract and retain tech talent in a post-covid world. 
We are incredibly proud of our Code First Girls community and how active and engaged our members are. Below you'll find some community insights looking at who our members are and their thoughts on some key topics.
GET INVOLVED! BE A PART OF CODE FEST 2022