5 WAYS TO RETAIN WOMEN IN TECH: SPOTLIGHT ON PARENTS
The technology industry has a significant gender gap, with women accounting for only 26% of the workforce. To make matters worse, a study by InnovateHer found that 50% of women in tech leave their jobs before the age of 35. It's a major concern given that the UK tech sector will require 3 million new roles by 2025, but only 150,000 skilled graduates will be produced by higher education institutions. 
The numbers are clear; the industry cannot afford to lose women already within the tech sector due to poor parental leave policies. Here are five ways you can recognise the importance of enhanced parental leave policies.
#1: Enhance parental leave policies
50% of your female tech talent will leave your company before age 35 if you don't prioritise enhanced parental leave policies and flexible working. 
Offering enhanced parental leave policies is crucial to retaining female talent in the tech industry and closing the gender gap, with 63% of women considering flexible working as one of their top three benefits at a job. Retaining women also means offering enhanced parental leave to both men AND women, as 66% of men have cited financial concerns as a barrier to taking statutory paternity leave. 
Poor parental leave policies have led 18% of 18-34 year-olds to leave their jobs, while 25% have not applied for a job due to inadequate policies, even with no plans to have children. It goes to show just how much enhanced parental leave represents an employer brand and demonstrates the company's culture and values to job seekers. In a highly competitive job market, companies need to offer standout parental leave to remain competitive and attract top talent.
#2: Show your commitment and join the MotherBoard Charter
We've teamed up with MotherBoard, a Business Charter, Community and Event Series driving tangible change for mums working in the tech industry. 
Their mission is to transform the tech industry to be more inclusive of mothers by tackling stigmas and supporting employers who want to create real change. By signing up as a signatory, you can help tackle the challenges faced by working parents in the industry and play an active role in promoting and driving change.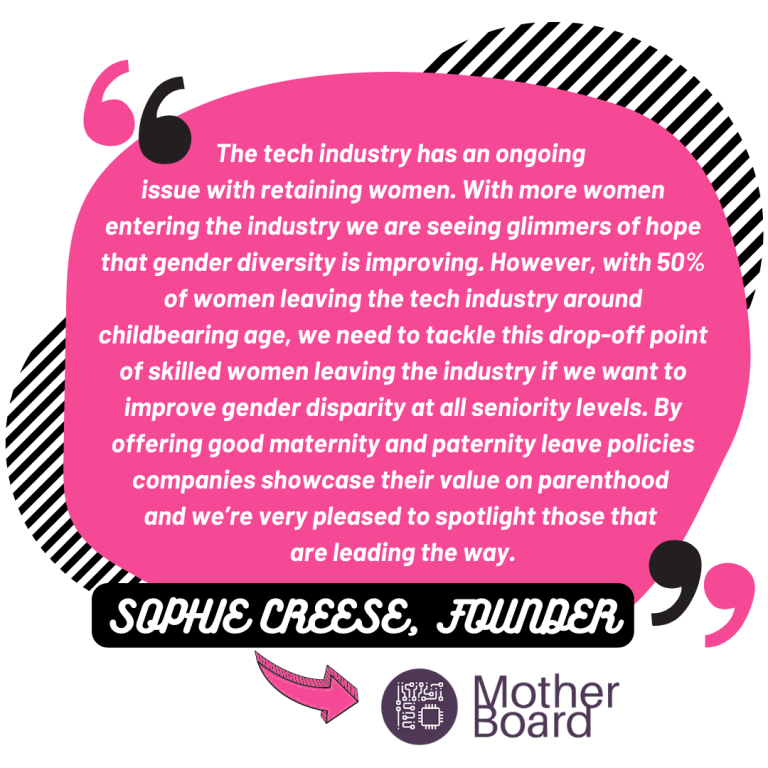 #3: Shout about your leave policies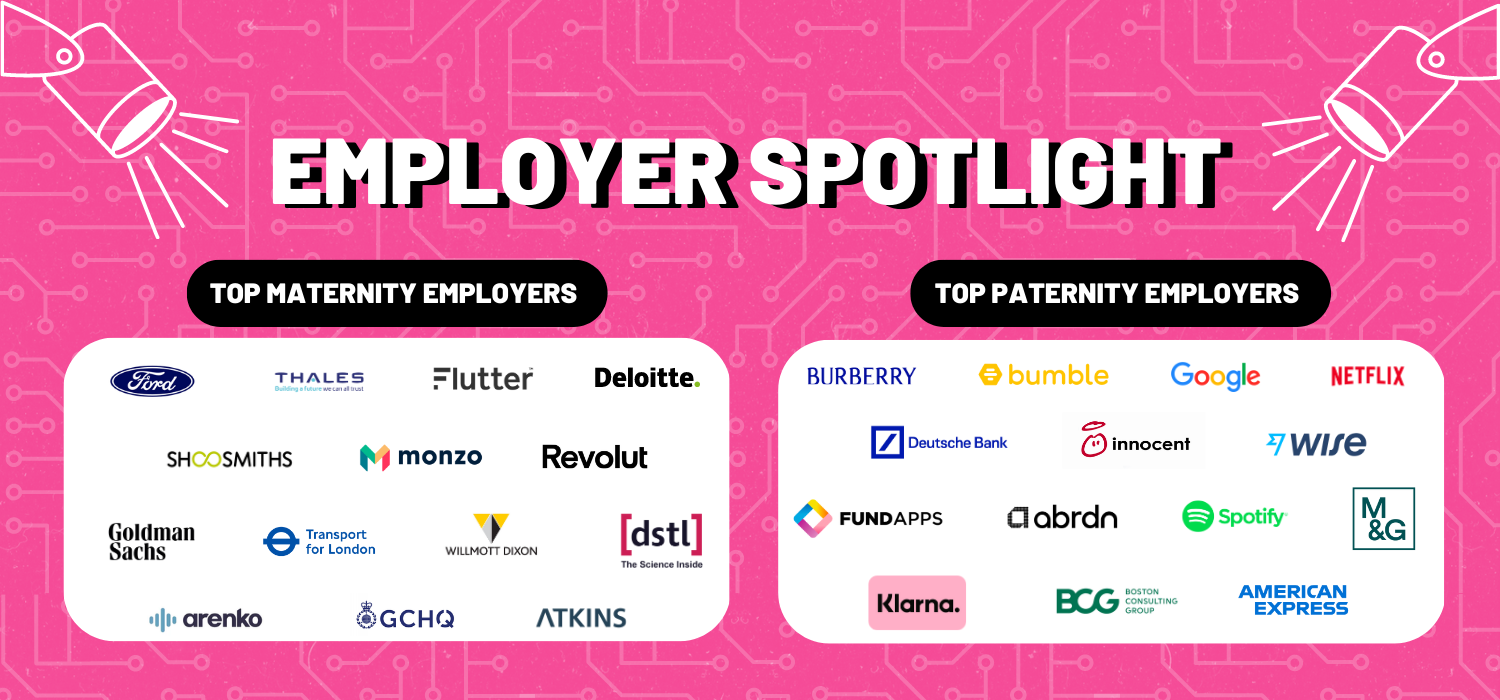 Many companies don't promote their amazing parental leave policies. By shining a light on your policies, you can showcase how you're transforming the industry and ensuring it's inclusive of mothers. Policies for both men and women play a role in promoting this inclusivity, with studies showing that when men take parental leave, women's earnings rise.
The Employer Spotlight is our way of recognising employers who, at a minimum, offer either a 6-month full-pay maternity policy or a 4-month full-pay paternity policy, alongside further benefits such as flexible working arrangements, on-site childcare and other family-friendly policies. Below are just some of the companies that are going above and beyond to support working parents:
SKY Betting & Gaming
Sky Betting & Gaming; Part of Flutter UK & Ireland offers 26 weeks of primary leave at 100% pay and secondary leave pay of four weeks, also at 100% pay. If your baby needs neonatal care, regardless of whether you're the primary or secondary caregiver, you can take up to 12 weeks of additional time off at 100% pay.
Ford
Ford has a positive approach to maternity, including enhanced maternity pay, in-house parenting workshops, subsidised antenatal courses and dedicated maternity advisors. There is also a Creche facility at their Dunton campus.
DSTL
DTSL offers a number of flexible working policies, such as job sharing and flexi-time schemes, giving employees the flexibility to manage their working hours to better suit their lifestyle, with blended working enabling employees to work at DTSL sites, from home or in other remote locations within the UK. 
Deloitte
Deloitte has increased the length of its enhanced maternity and adoption pay from 16 weeks' full pay and ten weeks' half pay to 26 weeks of full pay. In addition, Deloitte's people will now be eligible for enhanced maternity, paternity and adoption from their first day of employment at the firm.
Thales
Thales offers six months full pay maternity, adoption and surrogacy leave for employees who have worked with Thales for over a year. Fertility treatment leave is available to all employees, regardless of the length of service and is open to those undergoing treatment plus anyone supporting a partner or surrogate through fertility treatment. 
#4: Encourage your #MumsWhoCode
A major challenge to tackle is that it takes more than a decade on average for women to return to their pre-maternity salaries and status levels. Mothers also tend to accept lower-skilled roles than they were capable of holding after maternity leave as they viewed it as the only way back into employment. 
Having supportive tech returner programmes is key to ensuring the talent you've invested in isn't lost, from promoting your tech returner programmes with a #MumsWhoCode campaign to sponsoring returning mothers in flexible introductory classes focused on the most in-demand tech skills to help boost their confidence. 
#5: #REPRESENT your role models
22% of people think that the main reason women are being put off from a career in tech is early misconceptions in young girls. Having a female role model to look up to at work helps demonstrate what can be achieved if you set your mind to it, to not only young girls but working mothers too!
We invited Cristina Rutgers-Astolfi, Global Head of Analytics at IKEA and mother of four children to our podcast to hear she encountered and overcame stigmas that working mothers cannot be leaders and regaining momentum in her career. Here's what Cristina had to say:
"You need to believe in yourself. When you come back from maternity leave, you are physically and emotionally weakened by the situation and others have been developing further whilst you are struggling to find the balance. It is very important to believe in yourself and make sure you are there, sitting at the table and not behind it and believe that you deserve to be a part of that conversation."
Check out the full podcast below.
Top Recommendations
Don't fall into the "parent trap" of losing 50% of your best female tech talent. Offering flexible work policies and enhanced parental leave is critical for retaining talented women in the tech industry. By doing so, companies can ensure that they retain a competitive workforce, build their employer brand and not lose valuable talent to lower-skilled jobs further down the line. 
Here are the 5 ways you can recognise the importance of enhanced parental leave:
Enhance your parental leave policies by offering a minimum of six months full pay maternity leave and four months full pay paternity leave.

Join the MotherBoard Charter to help transform the industry into an inclusive place for working parents.

Spotlight your amazing parental leave policies to become a top employer of choice.

Encourage mothers to return to work with supportive programmes and tech classes to help boost their confidence.

Share the stories of your female role models to inspire working mothers.